Not content with establishing one of the World's leading whisky bars in Dornoch, brothers Phil and Simon Thompson have upped their ambitions and started making their own whisky and gin on-site at Dornoch Castle Hotel, forming Dornoch's first whisky distillery. Dornoch Distillery was born out of a successful crowdfunding campaign which saw 200 whisky enthusiasts from all over the world dig deep in support of the philosophy of bringing old styles of distillation back to life. 2017 saw the first batch of Dornoch New Make Spirit crafted and laid to cask, with over 500 casks being filled since. During our first year whilst still building the distillery, we began releasing independent bottlings of rum and whisky, this has since become the main income for the business whilst the casks of Dornoch distillery spirit are maturing. At Dornoch Distillery we are a small team (in 2016 there were 4, and in 2023 there are now 7) who all work in Dornoch on a full-time basis. In 2022 we moved into our new "Global Headquarters" building in Station Square, Dornoch, where we have our little shop (more info on that can be found here). 
Alongside our independent bottling hussle, we produce our Organic Mediterranean Gin using an additional still and production set up in our tiny distillery. Our gin has become a crowd favourite, winning multiple awards and being successfully exported to over 12 countries (more information can be found on this here).  In 2022 we created two additional products, which sit alongside our gin to form our core range, SRV5 our Blended Scotch Malt Whisky, (more information on which can be found here), and TB/BSW Blended Malt Whisky which have both received fantastic feedback, from keen drinkers and industry professionals alike! 
The jewel in our crown is our Dornoch Single Malt Scotch Whisky, and as I write (Sept 2023) we are preparing to release our first 6 year old cask. In 2020 we released our inaugural release via our ballot system (more info on that here) and since then have released 16 casks publicly via this system. As most of these are tiny little Octave casks, they only give a yield of ~70 bottles which means they are very scarce. But fear not, we have ensured that in years to come, there will be enough Dornoch Single Malt to go around as we are distilling daily and laying down far more spirit than we are releasing. (More info can be found about how we make our whisky here) 
In 2022 we made public our plans to expand our distilling operation by building a new distillery in Dornoch at a location, straightforwardly named "Dornoch South". We applied for planning at the end of the year and waited with bated breath to hear the results. Finally, in September 2023, we were granted planning permission to go ahead and begin to create our sustainable, carbon-neutral Distillery. We want to cement Dornoch as a world class whisky destination with the inclusion of a visitor centre and tasting room as well as the new distillery.  (More info here)
So looking forward into the future of Dornoch Distillery, we hope you will see a bright future for our little venture. Please follow us on your favourite social media platforms or sign up to our mailing list to learn more about what we get up to in the North Highlands!
We look forward to welcoming you to Dornoch in the near future!
Team Dornoch Distillery
WORKING TOGETHER IN DORNOCH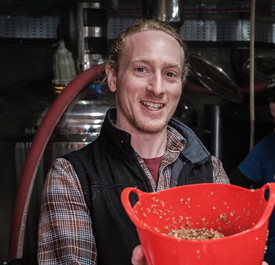 Simon Thompson: yeast enthusiast; doting father; devoted practitioner of distillation; frequenter of thought vortexes. Simon is one half of the Thompson brothers and is the abstract, technical ying to Phil's traveling, business acumen yang. He is the granite foundation of production knowledge and years of research upon which Dornoch Distillery's products are conceived and created. He enjoys mysterious beers; questionable podcasts; and dancing as if no-one is watching.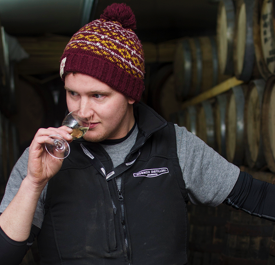 Phil Thompson was once called Curly and played bass in a band. Now he's called Phil and is doggedly building a family distilling empire. Armed with a ferocious knowledge of whisky and distillation, and in possession of acute nosing abilities, Phil balances his day to day work in the distillery with overall management of the company and a demanding schedule abroad preaching the Dornoch Distillery gospel. He is the world's 11th most enthusiastic devotee of Highballs; an out and proud connoisseur of red trousers; and Sutherland's leading specialist on Buffalo Mozzarella.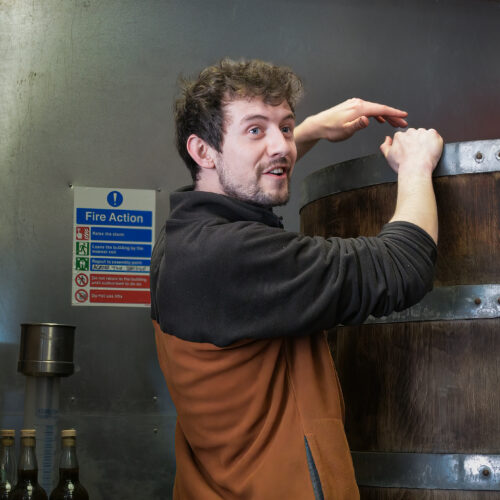 Meet Jack, our quirky warehouse manager. When he's not juggling boxes, he's scaling shelves like a monkey on a mission, claiming he's part-warehouse, part-spider. Jack's passions are as diverse as his taste in music – which is incredibly eclectic. One moment, you'll catch him dancing to disco beats, and the next, he's headbanging to heavy metal. But his true love lies in the forklifts! He treats them like prized dance partners, performing graceful moves through the aisles as if in a waltz. We've even caught him giving them affectionate pats like they're loyal pets. But that's not all – Jack's got a hidden talent too. He's a master at blending whisky, crafting concoctions that make taste buds dance with delight. Despite his antics, Jack keeps us laughing and our warehouse in perfect disorder. If you need an expert in climbing, forklift charming, wine tasting, or finding lost treasures, he's your man!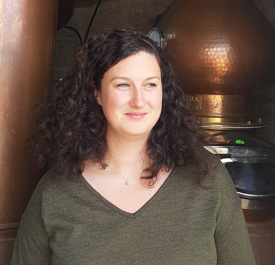 Also has curly hair, yes there is a theme here at the Dornoch Distillery. After graduating with a degree in International Tourism and Hospitality Management, Vhairi went on to work in Australia where it soon became apparent that her future would revolve around alcohol. Vhairi is involved in all aspects of the making of gin and whisky other than physically making them. When not at work Vhairi likes to get a minimum of 914.4 metres above sea level (AKA climbing Munros) between her and the boys.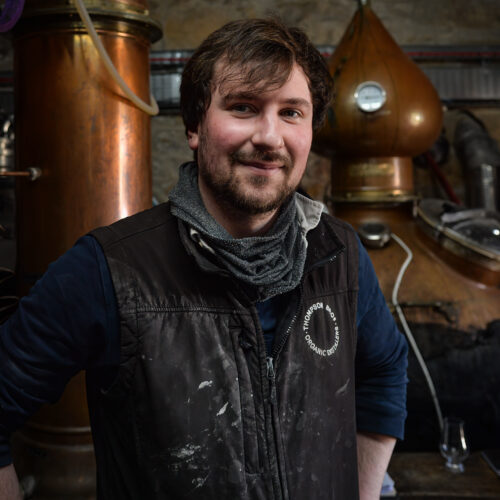 Meet Euan, our extraordinary Distillery manager, who works hard and plays harder! His journey with us began at the Dornoch Castle Hotel, where he'd sneak away to the Distillery, gleaming with excitement like a kid in a candy shop. Passion for whisky ignited, he whisked off to study Brewing and Distilling at Heriot Watt. Now, he's back with us, and boy, are we lucky! Euan's a mastermind, turning water into liquid gold and bringing new spirits to life. When he's not concocting magic in the distillery, he's sipping on old funky beers, adding some zest to his day. With Euan around, our spirits soar, and the fun never stops!