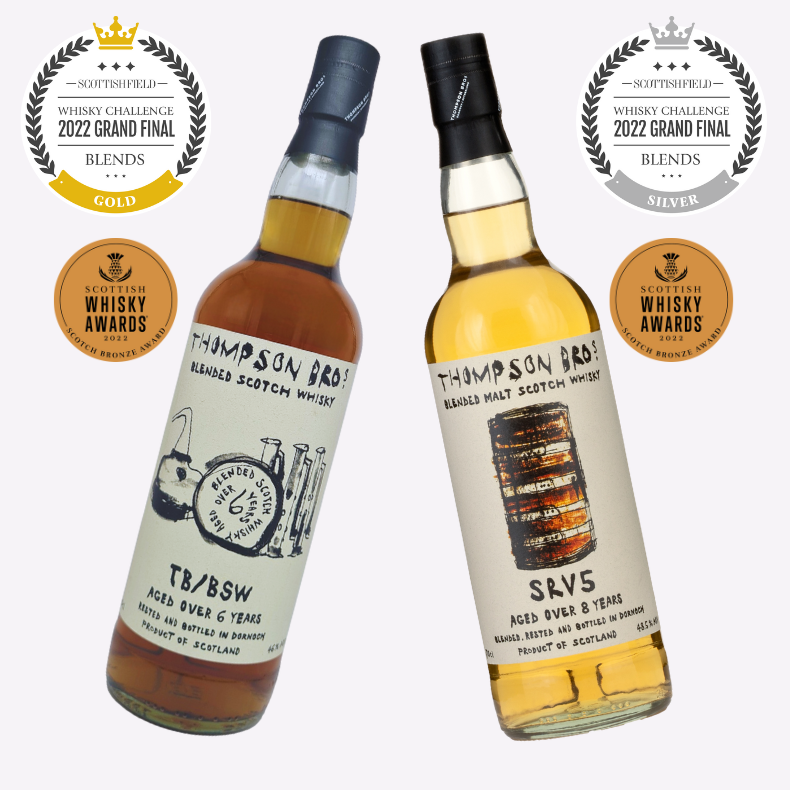 2022 brought many new and exciting experiences to Dornoch Distillery, some of the most exciting things to happen were the releases of two core blends, SRV5 and TB/BSW.
                                                                                  SRV5 Blended Malt Scotch Whisky

SRV5 (Station Road Vat 5)
Our goal with SRV5 was to create a Blended Malt that although consistent would evolve over time due to the inclusion of the 'starter' from the previous batch in the following batch.
We wanted to create a style that we, as whisky geeks, would enjoy. We work with a selection of North Highland, Islay and Speyside Single Malts to create a vatted malt which is bright and fresh and has a great slightly waxy mouthfeel and gentle smokey balance.
We decided that the spirit showed best at 48.5% ABV, and of course, like the rest of our bottlings, the spirit is non-chill filtered and bottled without any colouring.
TB/BSW Blended Scotch Whisky

TB/BSW (Thompson Bros / Blended Scotch Whisky)
This small-batch blended Scotch whisky is composed of carefully chosen single-malt and single-grain whiskies. They have all been aged for more than 6 years before being blended and rested, and then bottled by us at Dornoch Distillery. We have selected the components of the whisky to celebrate sherry maturation, and its character is inspired by the sherry-forward blends of the past.
Once rested, the whisky is slowly diluted to 46% ABV – an excellent balance of easy-drinking quaffability and flavour-forward intensity. It is then bottled without chill-filtration and no colouring is added.
This versatile whisky should be enjoyed however you want – it's your whisky, drink it your way!