After a much deserved break over Christmas and New-year, we are back in production and we had some very exciting juice to come back to. 
Every Christmas we like to carry out extra, extra long fermentations. We filled the washbacks in the last week of production before the break and they were left to do their thing for just under four weeks. Generally, our fermentations will run from anywhere between 120-192hrs, with the average being about 168hrs on our usual production schedule. After about 48hrs the yeast will have finished its work, converting all the simple sugars into alcohol. During the next 120hrs wild yeast and bacterial colonies will begin to take over, predominantly lactic acid bacteria (LAB), which anaerobically metabolise any remaining sugars, releasing acetic acid and lactic acid as by-products. LAB will also facilitate the esterification of these acids along with free fatty acids, from yeast autolysis, into various esters creating more fruity notes and creamy/sweet mouthfeel in the spirit. 
The Christmas fermentations were handled slightly differently. We mashed in a little hotter than usual, with a mix of Marris Otter and Plumage Archer. This created worts with a much higher proportion of dextrins than usual, which we filled into our washbacks at about ~45⁰C. We left these washbacks to spontaneously ferment (no yeast added). The reasoning behind this was to create a much more favourable environment for our distillery wild yeast and bacterial colonies, particularly Brettanomyces which has the ability to break down larger sugars, usually unavailable to Saccharomyces. Brettanomyces works a lot slower than brewers yeast and LAB and typically produces esters and phenolics which contribute aromas of spice, leather and barnyard funk. We also played Funkadelic's Maggot Brain on loop for the entirety of the break. Brettanomyces loves Funkadelic. 
As you can imagine the yields from these batches would get us fired in any other distillery, but luckily the spirit tastes great so we got away with it. We filled the spirit into a couple fresh De-char/Re-char casks we recently received from Invergordon Distillery Cooperage, these casks will likely be left to develop for a long time. 
In addition to the poor yielding long term fermentations, we developed a leak in the lyne of our Wash Still. The Wash still has got to be the hardest working part of the distillery. With low yielding barley varieties we occasionally have to skip a distillation on the spirit still, but the wash still virtually never stops. It gets a break every Sunday for a deep clean, but apart from that, it runs six days a week without fail. We've patched up the leak and we have a new one on order and in the meantime, we will run the wash a little slower to reduce the pressure on the patch. 
In other news, we have finally received our blending licence from HMRC.  This allows us to create our own blends in house; to celebrate this we have begun the process of creating our very own blended malt. This will be an every day quaffing dram composed from a collection of highland and island malts from refill bourbon casks.
Our blending licence also allows us the opportunity to create small-batch blended malts under our 502 label.
February will see a return to our Independent Bottling, which has been a little quiet in January due to a shortage of corks and capsules, so look forward to some exciting new releases in the latter half of the month. 
By Jacob Crisp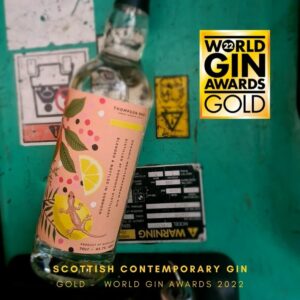 Until then, we are delighted to announce that our Thompson Bros Organic Mediterranean Gin was awarded a Gold Medal by the World gin awards in the contemporary category! If you haven't tried it yet – what are you waiting for?
Tasting Notes by Phil
Ardbeg NAS / Possible 10 Year (80 proof, OB Circa 1970)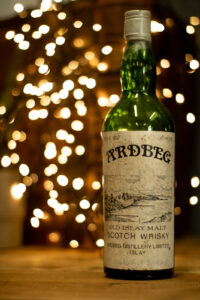 Nose: You are on the West coast; rusted old fishing boats and tarry (salty) hessian. 1st press olive oil, linseed, old waxed jackets, blood orange, preserved lemons, green olives, salted butter, pear compote, dried kelp, touches of tinctures; medicinal and waxy with subtle minerality. The peat is gentle, it is carrying the other flavours but is not dominating.
Palate: More old style Highland farmyard than west coast Islay, pickled ginger, caperberries, preserved lemons, green olives. Super complex full of smoked fish, brine-y notes, old fishing ropes, tapenade. Again the peat is not the dominant force, it is subtle and carries the spirit while giving balance.
Finish: Chalky & coastal, old hessian ropes, pickled green peppercorns. Impeccable and extremely complex. 
What I love in these old Islay whiskies is that the peat was not the dominant force, it was just a means to make the whisky and was not the end goal of the distiller. Excellent whisky – sample courtesy of Mark Littler