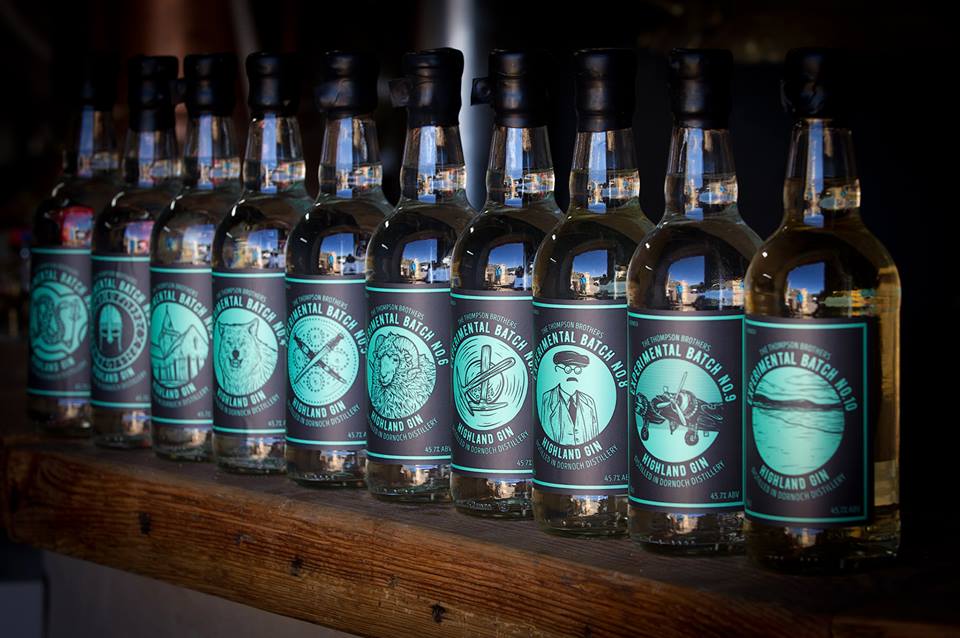 A big thanks to everyone who has taken the time to send us their feedback on the experimental batches.
With 10 different styles ranging from a more classical mixing style to heavier malt wine Genever styles as well as some interesting botanical additions, there has been a lot of different opinions which can roughly be split into two camps.
The lighter styles that mix well have been very popular especially in our bar. These have gone down best with those who prefer a G&T or traditional gin cocktails.  
The heavier more spirit/fermentation/cereal flavour driven gins have been enjoyed by the kind of spirits enthusiast who samples straight.  The heavier styles tend to have more oils that come out of suspension when diluted leaving an interesting mouthfeel which has been kind of love or hate.
So how do we move forward from here?  A lighter bodied more neutral spirit seems to have more mass appeal but the heavier spirit driven gins have strong support from the spirits enthusiasts who also like the variation in style.
We are thinking of a two pronged approach for our final gin(s);
We are working on a "blend" as a core product that will be a mixture of our more flavourful spirit, made from organic floor malted barley, and one shot gin, made from organic grain spirit.   A small scale test of this has been resting in the warehouse for four weeks and it makes an excellent G&T.  We can put this out at a lower price point as good bar fodder and daily drinking.
For the enthusiastic straight spirits drinker we are looking to have a series of one-off specials with full from scratch production.
Currently we have turned most of our fermentation capacity over to single malt whisky production and are running some small scale gin experiments based on the feedback. There is still time to send us in your feedback.
For our crowdfunders we have sent you all your t-shirts and tasting packs of the first ten experimental batches.  For our first core bottles we have commissioned custom glass bottles.  The first batch of bottles will be ready soon but there have been delays on the custom sized corks which will not be with us until October.  If anyone is getting impatient, we are happy to send out one of the experimental batches instead (some are totally gone, though) but the sexy bottle will be worth waiting for…
In the meantime we have just released a local exclusive in 200ml bottles, retailing for £12.95 in local shops.  We are working on a batch 11 and 12 as part of the experimental series.  We have also been asked to make an exclusive gin for Japan.
WHISKY!!!
After more than a few delays we are finally in single malt mode.
We have just filled the official cask No1, a first fill oloroso butt (500 litres) from Bodegas Robles, a family owned organic certified bodega.  The spirit has come from unpeated Organic floor malted Plumage Archer barley, which was the predominant malting variety in the 1940's, fermented for between 7 and 14 days using yeast varieties (propagated in house) from the Belgian Trappist breweries.  
After cask No1, we laid down the first 7 octaves for our crowdfunders (93 to go)  We will be roughly doing these in the order that people pledged with us. The next few will be in a similar style to cask No1 then we'll be switching things up.  We have all the casks here, over 100 first fill bourbon and a handful of first fill Rye, all from Journeyman, an independent organic certified distillery near Chicago.  We have secured our supply of organic floor malted Plumage Archer and Marris Otter until the next harvest and we are organising more old varieties of barley.  Our priority in the coming months will be to fulfill our production commitments to all of you who helped this dream into reality 🙂
Octave owner hoodies and certificates are being worked on as well.
In other news, Jacob, who helped us right through the build and production will be leaving us soon.  We wish him the best of luck in his new venture. We have had a large number of applications for his job.  Although we haven't replaced Jacob yet, we have some good looking applicants coming for trials very soon.
Stay Groovy,
Simon & Philip