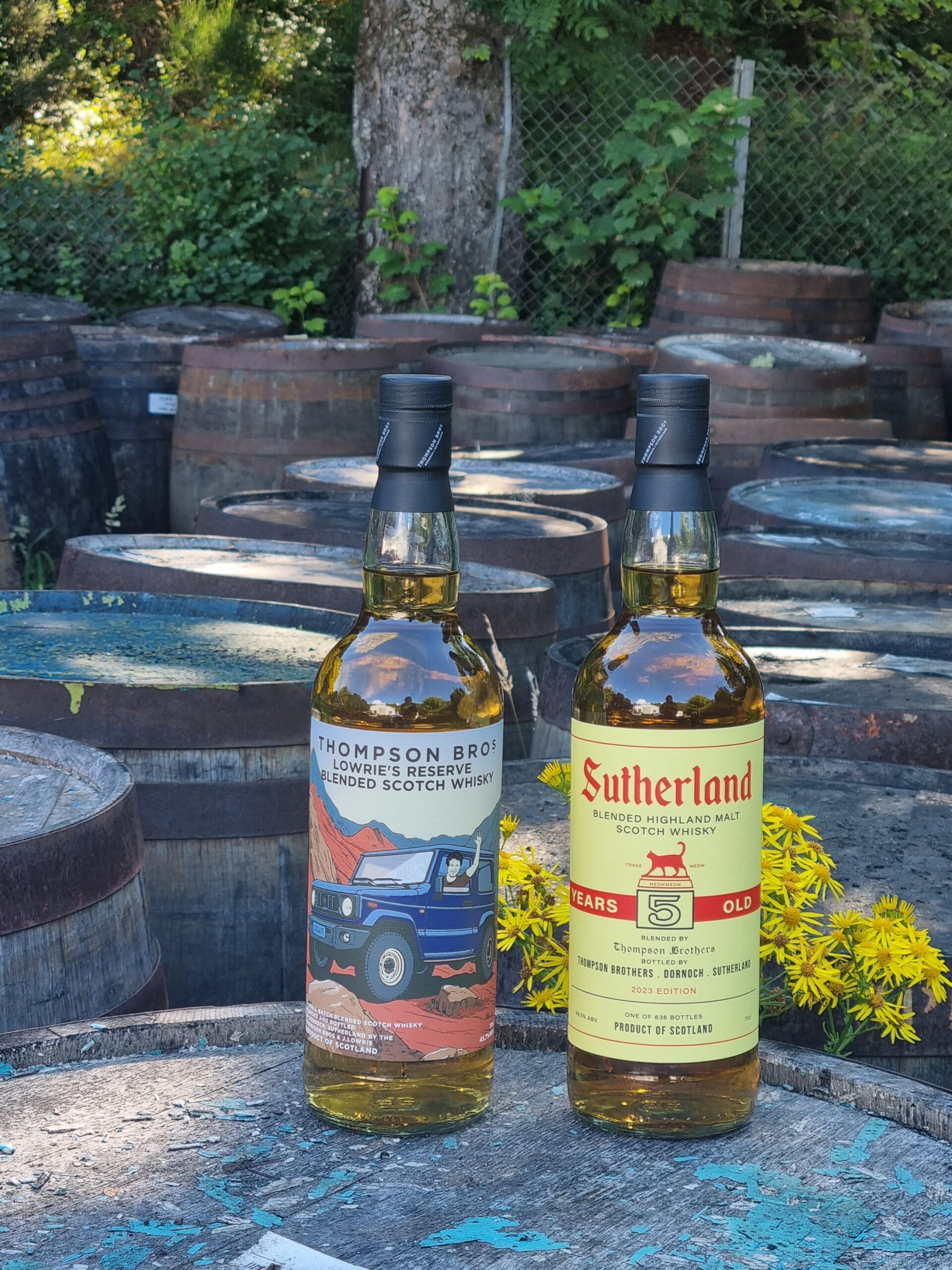 Sutherland Blended Malt 2023 Edition and Lowrie's Reserve Blended Scotch Whisky
Hello. 
Another six months of radio silence have passed so surely it is time for another blog post. This year, like the rest of them, has drawn in much quicker than expected. Production at Dornoch Distillery carries on as (ab)normal, with Euan and Dan continuing to do, and make, extremely weird things within the confines of what is legally definable as Scotch Whisky. Our warehouse is busier than ever and this summer marks 1 year of our SRV5 and TB/BSW blends being on the market. The demand has been great and the feedback reassuring.
Happy with the reception of our core blends, we thought we would give it another shot. Namely with two new products, our Sutherland Blended Malt 5 Year old 2023 Edition and Lowrie's Reserve Blended Scotch.
Our Sutherland 2023 follows the same recipe and proportions as last year which is as follows;
100 bulk litres of Clynelish 2014 Vintage 9 years old (refill bourbon)
214 bulk litres of Clynelish 2015 Vintage 8-Year-Old (refill bourbon)
64 bulk litres of Dornoch 2017 5-Year Old (distilled 6/11/17) (Bodega sherry butt – refill Glen Moray barrel)
3cl of Brora 82 G&M bottled 2015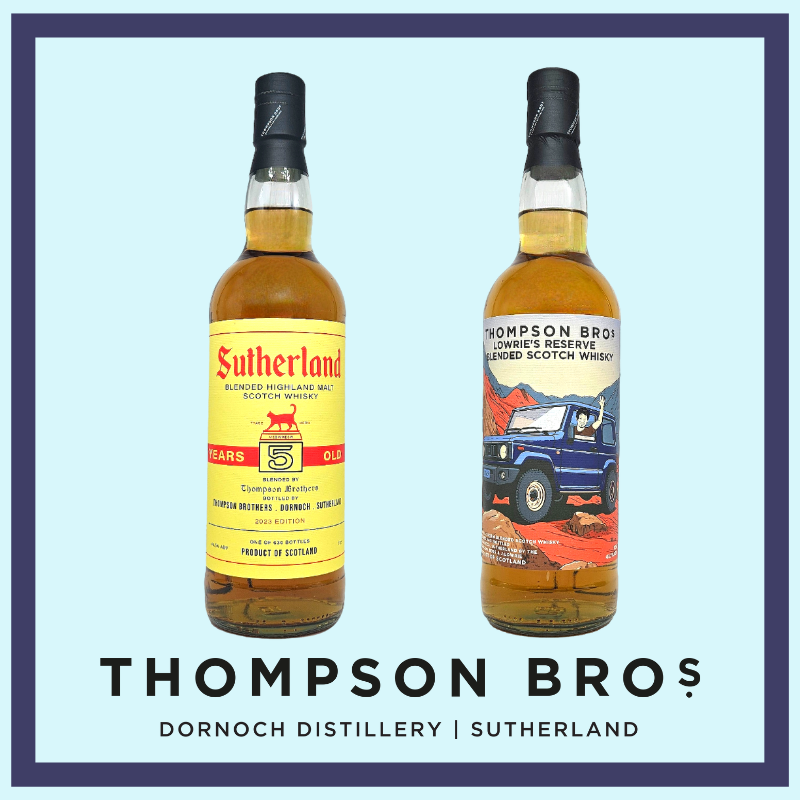 We found that last year's edition improved greatly over time with oxygen in the glass so we attempted to force oxygenation by transferring the liquid to multiple vessels prior to bottling. This resting period to allow integration cannot be overstated either. Initially, the 2014 Clynelish was racked into a first-fill bourbon barrel, fresh from Speyside Cooperage, along with the 5 year old Dornoch component. The cask added a lush, tropical fruit quality to the blend. After a couple of months of integration, the liquid was then moved into a refill sherry butt and combined with the remaining 214 litres of Clynelish 2015 (and 3cl of Brora!). 
The finished blend yielded a total 636 bottles and will be departing our warehouse this Wednesday (16th August) and making its way around the world. Similarly, with last year's edition, we are delighted to see how powerful Dornoch Single Malt is as a blending component, adding extreme fruit, wax and depth to the blended malt. Something that we did not expect, however, is the subtle smoky quality our whisky has imparted. We believe this is due to the Belgian Trappist style yeast that was used in production, which is known to create phenols as a by-product of fermentation. I have included the tasting notes (see below) that Phil and I happily worked on last Friday afternoon.
Lowrie's Reserve Blended Scotch Whisky
Sourcing casks of Single Malt Scotch Whisky that we can call Single Malt Scotch Whisky and release at a reasonable price is becoming increasingly more difficult and altogether painful. As such, our hand was forced to look to new ways to bring, what we consider, value to the market. 
We managed to stumble into a situation wherein we could purchase 3 hogsheads of very nice, very sherried, reasonably matured blended scotch whisky. We took these 3 hogsheads and vatted them with 2 barrels of 11 year old, bourbon matured Speyside whisky (origin unknown). This, along with the sherried blended stock, created a phantasmagoria of white grapes, toffee popcorn, great value, fleshy white fruits, a very appropriately timed cigarette and, above all, great value. 
No good blended scotch whisky would be complete without a helpful dose of old-grain whisky. We, as independent bottlers in possession of a bonded warehouse, are falling over old grain whisky. Hence, 20.8% of this blend is made up of 1994 Strathclyde, refill barrel matured. The long maturation in refill bourbon adds a layer of texture to the blend, along with typified notes of coconut and caramel.
Lastly, we added some SRV5 that we had removed from Vat 5 and racked into an ex-Australian Shiraz wine cask that had since been used to mature beer by the good people at Campervan Brewery in Edinburgh. Obviously, the flavour profile of this liquid is a bit nuts but we found that, in the right proportions, it added a layer of funk and mischievousness to the overall picture. And, like a bay leaf in some ragu, this top dressing of SRV5 completed our blend.
A clear picture of the Constitution is as follows;
20.5% – Strathclyde Single Grain 1994, 28-year-old, refill bourbon
19.9% – Speyside Single Malt 2012, 11 Years old, Bourbon Hogshead
51.6% – Blended Scotch 2012, 10 year old, Sherry Hogshead
8.00% – SRV5 Campervan Brewery cask finish.
Flatteringly and much to my surprise, this blend has been dedicated to my Suzuki Jimny which sadly died from a fatal dose of rust earlier this year. The vista on the label is based on a stretch of the A9 which I drive on my daily commute from Inverness to Dornoch. Artwork by the incredible Andrew Soetiono (@whiskyhobo).
Lowrie's reserve pays homage W.P. Lowrie – legendary blender, distillery founder/owner and all-around magnate of the late 19th and early 20th-century Whisky industry. Certainly not your humble author.
Thanks for reading,
Jack Lowrie – Whisky Fan.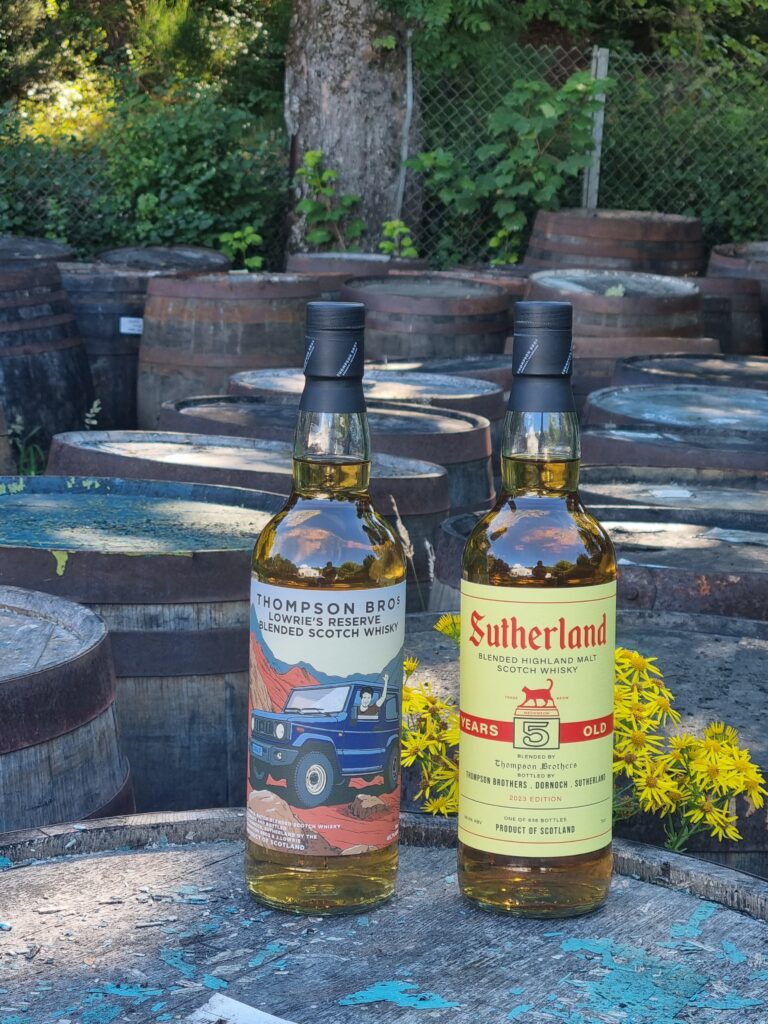 Tasting Notes:
Lowrie's Reserve Blended Scotch
N – Pear drops and pastis, white grapes, hops, galia melon, toffee popcorn, fresh parsley, hay bales, bay leaf, honeycomb (brittle), flumps, white miso paste, and nightshade (tomato plant).
P – Toffee brittle, caramelised malted barley, almond nougat, strawberry, wild herbs, orange marmalade, lemon cough sweets, some oak spice, hints of cloves, charred peaches, 
F – Orange bitters, clove oil, ginger root and a gentle salinity
Sutherland 5-Year-Old Blended Malt 2023 Edition
N – Old Cadenheads dumpy smell; copper coins, engine oil, old hessian rope, eucalyptus. Bucket of fermenting pineapple filled with wax and honey. Sage, chalk, dried hops, gorse, lemon drizzle cake.
P – Plenty of ripe fruits, apricot kernels, pineapple & pear. Madeira cake. Mystery smoke?! Akin to a 90s bottled Laphroaig 10 (sorry), lemongrass, bay and galangal. More wax, creme caramel and bitter chocolate.
F – Cacao Nibs, lemon cake. Salty, waxy and creamy