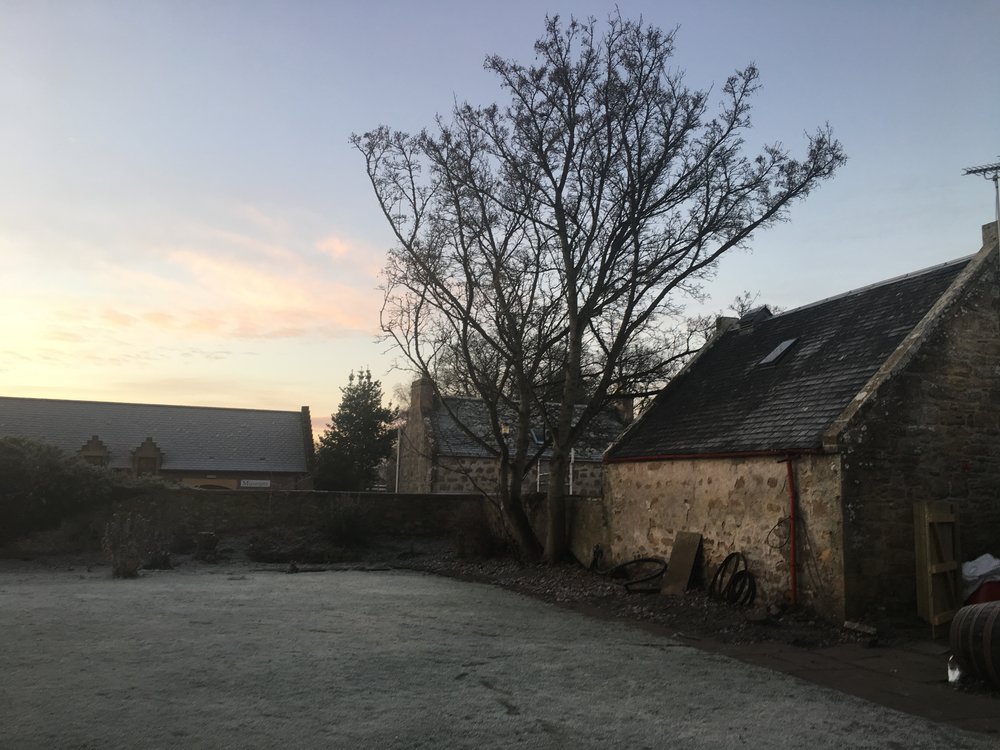 We are now officially a licensed distillery!!
We must thank all of our friends, family and especially our crowdfunders for helping us reach this momentous stage. It has been an incredibly hard journey and we still have a long way to go….
Frosty mash mornings.
We are now focusing on bedding in all of the equipment and understanding the nuances, what works, what doesn't, correct positioning, proper production schedules etc etc
The plan is to focus on our from scratch Organic Gin production so that we can send out the tasting panel feedback samples in the new year. We hope to have these with you in January so you can blow away those January blues….
Our first wash – Frothing like a crab on Scrabster pier.
In other news we have yet again won the SLTN Scottish whisky bar of the year! Another great reason to come and stay with us at Dornoch Castle!
We are also putting together some really great offers for people to come and visit the Hotel this winter……more to follow.
Did I mention we also released another great whisky…..
In between winning whisky bar of the year and being granted a distilling license we have also released another awesome single cask Whisky with our friends at Kimura LTD in Japan! We have selected a bourbon cask matured Glenrothes 1996 20 Year old. From the original 250 bottles, there are 150 currently on the way to our friends in Japan. The remaining bottles are for sale on our distillery website and directly in Dornoch Castle!
Again, thank you for the support – we couldn't have even done this if it wasn't for you…. I am off to get my head back into a mash tun and dig out the grain bed. Fun!